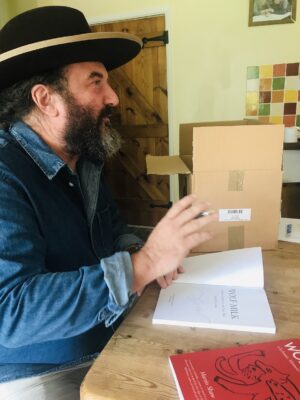 The first few hundred copies of Wolf Milk: Chthonic Memory in the Deep Wild,  Dr Martin Shaw's latest book about wilderness rites of passage, have been posted out by the team at Cista Mystica Press.
 The pre-ordered copies have all been personally signed by the author and are making their way to destinations all over the world.
This book offers Martin's reflections on 20 years of leading vigils in the wilderness, a way for modern people to enter an ancient ceremony through 'myth, poetics and hard-won brooding'.
Billl Plotkin, author of Soulcraft and Wild Mind says: "With sleight-of-mind and wizardly word magic, Shaw conserves and amplifies the mysteries of this ancient pancultural ceremony. A visit to an underworld cave of gods who might, if you please them, shred and reassemble your life. Cleverly disguised as a book, this fireside spell-casting belongs in the satchel of anyone venturing downward – and those who would guide them."
David Abram, author of Spell of the Sensuous and Becoming Animal, describes Wolf Milk as "a kind of handbook for being made and remade through the work of the wild…how we might replenish genuine culture at this teetering moment on the whirling earth."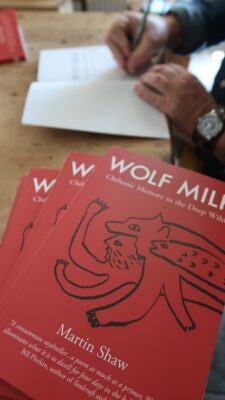 This very latest book, launched on September 2 2019, also contains drawings by Martin, whose own life was profoundly changed by the experience in his early twenties.
He says of the experience: "It is your task to walk back from the vigil with an animal not a pelt, not a corpse, but something alive.
"Curate that energy, feed it, don't domesticate it, make culture from it. It should be walking alongside you, not slung over your shoulder. You build your structures from its growls."
A portion of the profits from the book will be donated to Survival International.